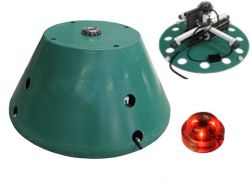 Omnitech Electronics' Diver Signature Integrated Measurement System was developed in partnership with Defense Research and Development Canada. DSIMS measures the acoustic, magnetic, electric and pressure signatures of Navy Divers, for training and prior to deployment for mine-clearing operations.
Sensors are mounted in a Manta Mine shaped underwater housing and detect acoustic, magnetic, electric field and pressure signals. The analog signals are conditioned (amplified, filtered and buffered) by circuitry in the Sensor Interface Unit and sent to the Underwater Data Acquisition Unit (DAU) located five meters away.
Digitized DSIMS data from the DAU is sent via Ethernet-over-VHDSL (or optional fiber link), to a ruggedized operator console at the surface or onshore.
Sensors
The Sensor Interface Unit connects to the Underwater Data Acquisition Unit using the Analog Signal Cable and is secured to the base plate of the Mine Shape. The SIU contains up to two tri-axis magnetometers, one electric field sensor (2 or 3 axis options), one hydrophone, a high precision pressure sensor and a high output LED indicator. Ancillary sensors measure mine shape orientation, temperature and water depth. Additional options are available for video, seismic, ambient and artificial light sensors
Software
Specialized DSIMS software acquires, analyzes and displays diver signatures in real-time. If enabled, the selected mine algorithms can signal detection levels to the diver through a set of high-power, underwater LED indicators without affecting any diver signatures. Visual and audible alerts provide feedback to console operators. The interface allows the creation, editing and selection of mine algorithms from menu options or custom software add-ons. Sensor data is recorded for future analysis or playback in unprocessed, full bandwidth files. Data in the displays is corrected for platform orientation.
Maturity
DSIMS was developed as a joint effort between Defense Research and Development Canada (DRDC Atlantic) and Omnitech Electronics. The effort began in 2003. Three versions of DSIMS have been designed and built. User feedback has been a major factor in the refinement of the design, with the key objectives being a small, easily portable, highly reliable and accurate measurement system for diver signatures.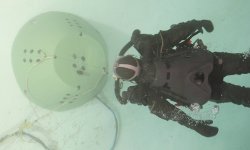 Customization
Omnitech Electronics can customize a DSIMS with many sensor configurations, types and construction according to customer specifications. Systems can be configured for short-term easy deployment or long-term permanent installations. All software source code and data interface specifications are provided to customers with support and customization assistance. Contact Omnitech Electronics for more information