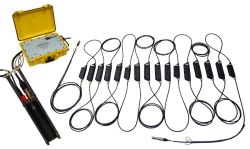 Overview
Omnitech Electronics collaborated with Defence Research and Development Canada - Atlantic (DRDC), to design and manufacture the TURNS sensor array system to fulfill the Canadian Navy's requirement for a magnetic signature range that can be easily deployed when on assignments anywhere in the world.
The TURNS system is a digital magnetic array based on Rapidly Deployable Systems (RDS) technology. Each array consists of twelve (12) orientation-corrected, digital magnetometers and an optional four (4) high-frequency digital hydrophones. The magnetometers are spaced evenly by six (6) meters over the length of the array. The hydrophones are evenly spaced over the total array distance.
The array is small and light enough to be deployed from a small craft. After deployment, the array sensor positions can be further calibrated using acoustic positioning techniques measured through the hydrophone elements. When ranging, the vessel will make the required number of passes over the array while the underwater systems sends data to a rugged operator's console onboard the small deployment craft through a surface cable over a TEMPEST Ethernet link. The data from signature measurement is then geo-referenced with the ship position data and a magnetic ship signature can be produced.
System Components
In addition to the underwater sensor array, the TURNS system is comprised of the following: a.) an underwater 'Array Receiver' (AR), b.) a 'dry-end interface (DEI) c.) a rugged operator computer, d.) an onboard ship position measurement system.
The Array Receiver (AR) collects digital data from the array sensors and sends this data via optical Ethernet in the tether cable to the Dry End Interface (DEI) at the surface or onshore. The AR generates a sample clock synchronized with a GPS pulse per second signal received from a GPS Disciplined Clock in the DEI. The DEI converts optical array data to standard a CAT5E RJ45 connection to the operator console. Power for the entire system is provided through an external 24VDC battery source that is conditioned at the DEI and sent to the underwater AR through the tether cable.
Highlights
3-axis Magnetic, Acoustic, Pressure, and 3-axis Acceleration.
24-bit sampling @ 2500 Sp/s
Battery powered operation.
Calibrated to provide orientation-corrected, geo-referenced magnetic measurements.
Delrin ® Acetal and PEEK construction with NAB terminations.
Custom configurations available